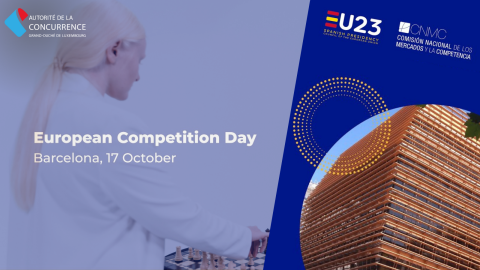 The Luxembourg competition authority, represented by its President Pierre Barthelmé, took part in the European Competition Day (ECD) organised by the Spanish Ministry of Economic Affairs and Digital Transformation at the National Markets and Competition Commission (CNMC) headquarters in Barcelona, on Tuesday 17 October.
During the ECD, the participants addressed two main topics:
With the first panel, the interaction between competition and regulation, specifically covering the implementation of the DMA;
With the second panel, the risks posed to competition in the markets by new technologies with a particular focus on Artificial Intelligence.
About the European Competition Day
The European Competition Day is a conference organised during each Presidency of the Council of the European Union and which gathers representatives of European competition authorities, the European Commission, ministries, politicians, companies and experts in the field of competition policy. It aims at raising awareness of the importance and impact of competition advocacy on the economy and society.