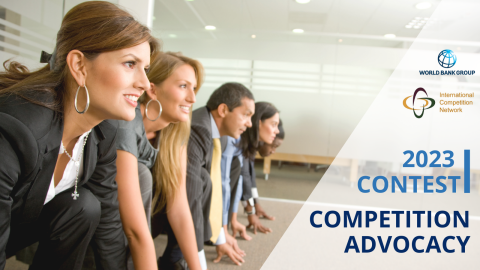 The International Competition Network and the World Bank Group announce the launch of the 2023 Competition Advocacy Contest.
This contest aims to highlight the key role competition agencies, sector regulators and other governmental bodies or non-governmental organizations play in promoting competition by showcasing their advocacy success stories regarding:
Theme 1 – Embedding competition principles in public policies, especially when responding to crises
Theme 2 – Advocating for competition across borders to meet global challenges
Theme 3 – Reinforcing market institutions to deliver better market outcomes
Theme 4 – Supporting the climate change agenda through competition policy
The contest is open to:
all competition agencies;
all public bodies and non-governmental organizations promoting competition policy;
Joint submissions from ICN members with other governmental bodies as well as non-governmental organizations are welcome (and encouraged!).
If you are not a member of the ICN, you should reach out to the ICN member in your jurisdiction to inform them about your intention to participate.
The deadline for submissions is Friday, June 23, 2023.